About Kilsby
Floating our boat
The Kilsby Co-operative
 
CLICK HERE TO DONATE

Kilsby is a dilapidated narrowboat in sore need of repair. She's leaking, rotting and uninhabitable - but not beyond hope. Kilsby has a history (she's more than a century old) and with your help, a future. We want to save Kilsby for the community.
Here's how...
Kilsby's past
Built in 1912, in Birmingham, Kilsby was an original mudboat, working widely on the canal system. In the 70s she belonged to Clayton Brothers, who may have installed the wooden cabin.Kilsby came to Oxford in the early 1980s and was part of the struggle for permanent residential moorings. The boat's last owner, Helen McDonald, bought her in 1993 and is donating her to Jericho Living Heritage Trust.
Kilsby's present
Kilsby's bottom needs replacing and the hull is bulging.The cabin is rotting and she is seriously leaking. She is staying afloat - just - with the aid of pumps.The engine doesn't work.
Kilsby's future
Oxford Canal Festival wants to rescue and restore Kilsby for the community. We want to involve local people in the project - from making it watertight, to rebuilding and repurposing the boat.
Kilsby will be used as a performance and exhibition space, to promote the heritage and stories of the Oxford Canal. It will be available for regular short trips and will also be hired out for minibreaks.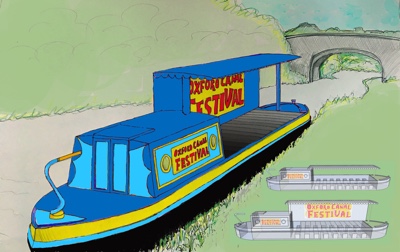 The Kilsby co-operative
We can't do this without money and, more importantly, volunteers.
We want to involve as many people as possible from the local community.
The last Oxford Canal Festival raised just over £5000 towards finding a narrowboat and bringing it to dry dock.We have our boat. Our exciting second chapter is about to begin.
Here's what we need to do >
SCHEDULE AND FUNDRAISING
Stage One
October/December 2019
Tow Kilsby to a suitable mooring where we can assess her condition. Straighten the hull so she can get through locks. Wrap the boat in tarpaulin to keep her dry.
Stage Two
December 2019/
January 2020
Find a safe mooring before towing Kilsby to Tooley's boatyard in Banbury.

Stage Three
February/May 2020
Carry out a survey;
Cost and draft a schedule of works.
Undertake the restoration programme.

How much will this cost?
We need around £60,000 to restore and re-purpose Kilsby and return her to the Oxford Canal. We are talking to Canal and River Trust, who are behind the project. We're confident of securing a significant capital investment grant from Heritage Lottery or similar community foundations.
The rest we aim to raise from the Canal Festival, other events, crowdfunding and private donations.
Running costs are estimated at £3,000 a year. We will cover this by operating trips in the summer and hiring the boat to members and to theatre groups/performers. We hope Kilsby will eventually take pride of place at Jericho Wharf.
Right now we need £10,000 to achieve Stage One.
We have already raised half this amount, £5,000, at the last Canal Festival and auction. Now we are looking for a handful of Founder Patrons who will help us reach our first funding milestone, enabling the project to go ahead and Kilsby to be secure.

Founder patrons will have a thank you plaque on the boat, will be invited to all events and kept in touch with progress.We also hope to make a short film of the project as it unfolds